Headlight Tint Film - Gold
Material: Premium Plus PVC material Headlight film
Finish/Texture: Gloss
Protective Top Layer: Yes. Remove to stretch and/or after installation.
Thickness: 5 mils
Longevity: 3-4 years, depending on geographical location, strength & amount of sun
Adhesive: Repositional, Clear and Non-Permanent
Application: Wet or Dry on vehicle lenses
Usage: Vehicle headlights, turn signals, and taillights. Any application where you need a smoked or colored transparent.
Features:
*Will bond to headlights with optically clear non-permanent glue, upgrading your vehicles look, protecting the headlight from physical and sun damage without significantly changing the output strength of your lights or it's color.
*Repositionable adhesive allows for repositioning multiple times without the risk of glue lines, fingerprints, marring, and other issues commonly found on headlight tints.
*Resistant against rock chips, UV proof, and scratch-resistant.

Installation:
1. Measure the size you need, then use the knife to cut.
2. Choose the location to stick and clean with the wet towel.
3. Spray water thin on the surface of light.
4. Rip away the film and spray water on it.
5. Blow-dry with a heat gun to remove bubbles.
6. Use the tool again to strike off the bulb carefully as it will influence the eventual effect.
7. Use an art knife to cut the rest film.
View full details
How much vinyl wrap do I need fully wrap my car?
Here's a good way to help find out how much vinyl your vehicle will need:
*length of your vehicle x 3 (for the two sides & the top of the vehicle from front to back) + extra for bumpers and mistakes (5′ to 15′ depending on complexity of car and your skill level).
*Always round up to the closest roll size.
For example:
A 2016 Ford Mustang is 188 inches long:
(188″ x 3) + 10"
= 47" + 10" = 57"
The closest roll size is a 4.98" x 59"
so purchase a 4.98ft x 59ft roll.
These size charts for refer:
Please note that these chart is an approximation, you would best to take the time to measure each part of your vehicle to ensure the correct amount of vinyl is purchased. Always purchase more to account for errors or wrong measurements.
Click here to find the right size wrap for your vehicle!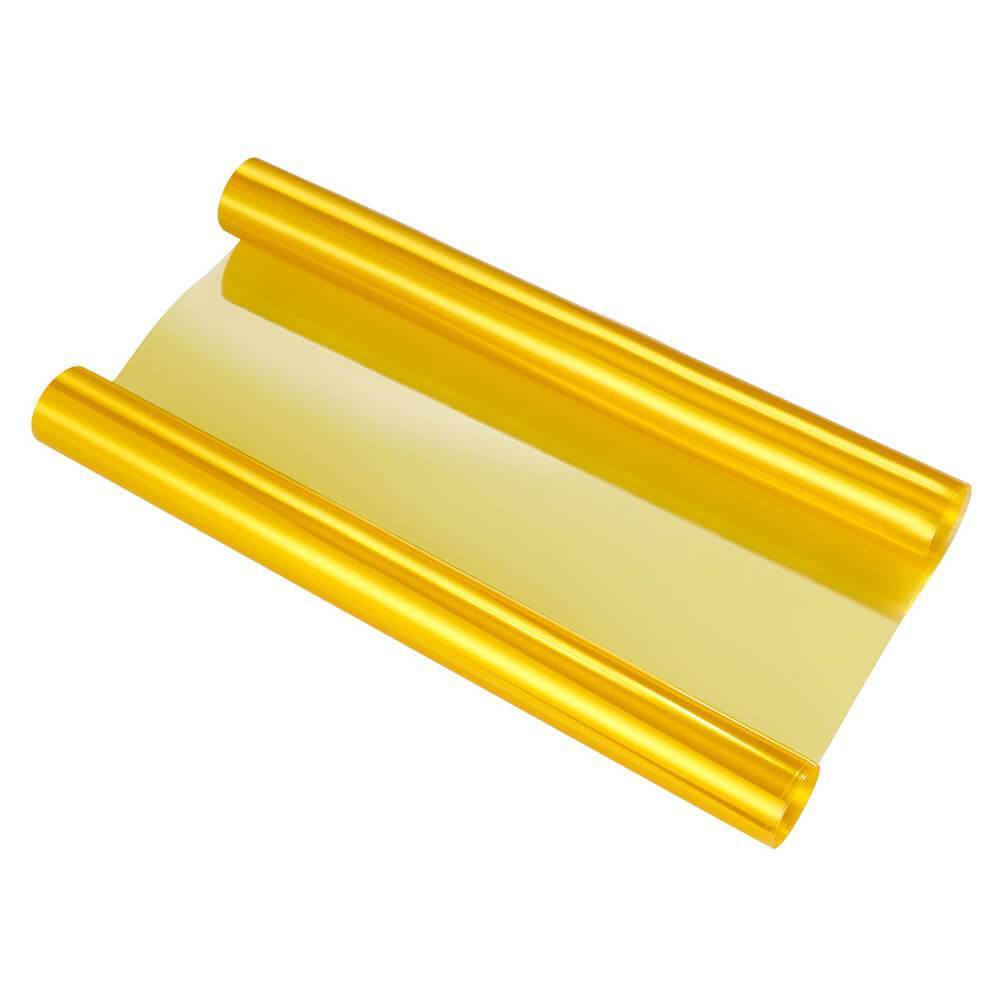 Headlight Tint Film - Gold